I'm most likely the last girl on earth to try
Maybelline's famous "Falsies" Mascara
, but I figured maybe I'm not the only one out there who hasn't discovered this wonderful tube of magic yet!
I'm a creature of habit, & when I find something I like, I tend to stick with it. Since they discontinued my holy grail Max Factor mascara ages ago, I've used
Cover Girl's Lash Blast Volume Waterproof Mascara in Very Black
since they are sister companies. It was the only mascara that gave my lashes volume, stayed on all day long, & most importantly, held my curl.
Almost all of the Asian American girls that I know are not blessed with full, thick, or curly lashes. As you can see in the photo below on the right side, mine grow sparse, straight, & downward. I'm not keen on wearing false lashes on a daily basis, so when I find a mascara that brings life to my limp lashes, I feel the need to rave about it!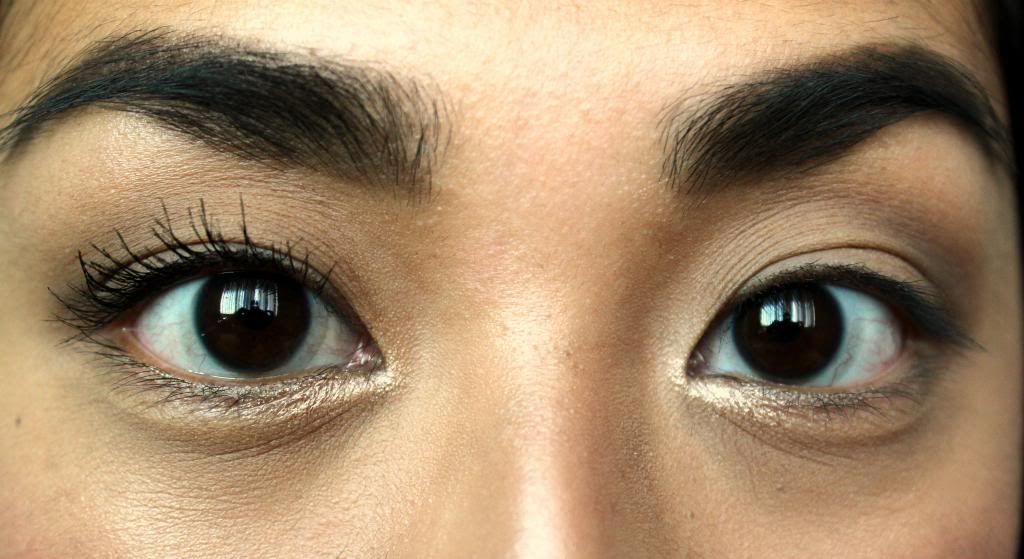 Left: One coat of The Falsies Mascara after curling my lashes
Right: Uncurled lashes without any mascara
(The halo around my pupils are my contacts)
The Falsies Waterproof Mascara does everything my Lash Blast mascara can do, & dare I say, even more! I've grown fond of the thick silicone brush that Cover Girl's Lash Blast has, so I wasn't sure how I would feel about Maybelline's typical plastic bristles & curved shape, but I do like it. The formula became a bit clumpy after a few uses, but the bristles help to brush everything out & add crazy length to the ends of my lashes. They really did look like a more natural pair of false lashes! I didn't bother adding another coat because I was satisfied enough for this daytime look, but I'm sure it would look great for a night look laid on thick. I didn't put any on my bottom lashes because I don't typically apply mascara there on a daily basis.
I love this mascara because it helps to make my eyes pop, & gives me a "finished" look without having to go heavy on mascara application or thick eyeliner. It held my curl all throughout the day, & was very easy to remove at the end of the night with my
Lancome Bi-Facil Eye Makeup Remover
.
If any of you are cursed with pin-straight, limp lashes like me, I would love to know if you have another favorite mascara that thickens & curls. I'm up for trying new products since being adventurous led me to this one, & I'm very happy about it!