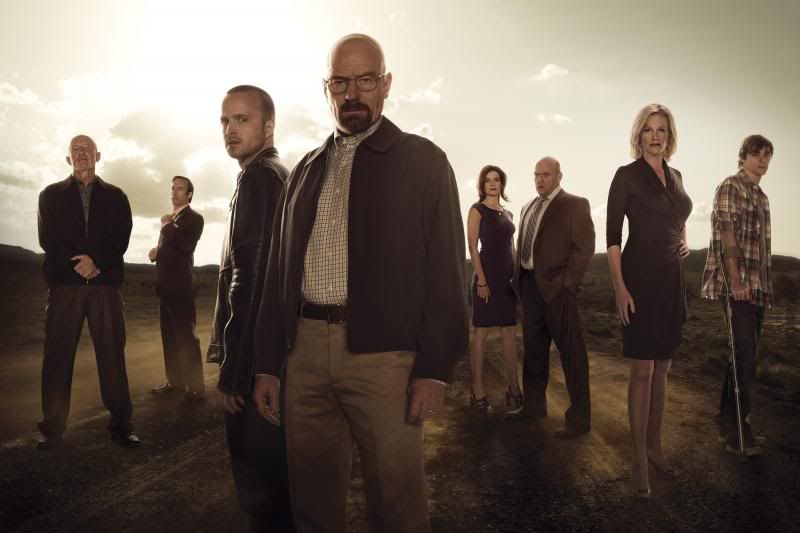 Breaking Bad has finally returned for the last half of Season 5 (or Season 6 to some), & I couldn't be more excited! For those who have no clue what I'm talking about, get on Netflix & watch all 5 seasons from start to finish, & I bet you'll be addicted (haha! See what I did there?).
Breaking Bad is a thrilling drama on AMC that follows the story of a cancer-ridden high school chemistry teacher, Walter White, who decides to cook meth in order to pay for medical bills & support his family. He works with a former trouble-making student, Jesse Pinkman, to cook the purest rocks on the market, attracting even the Mexican cartel. Walt's family is initially unknowing, & his brother-in-law, Hank Schrader, who is Arizona's top DEA Agent, makes the situation stickier.
SPOILER ALERT!!!
The first 5 seasons span over a year or so in Walt's journey from school teacher to drug lord, & the midseason finale of the 5th season could have been the most chilling cliffhanger yet! There were no explosions or epic gun battles, but it simply leaves you with a sinking feeling in complete silence.
Let's rewind a tiny bit. Walt has made more money than he knows what to do with since he was selling his perfect product internationally. Mike is dead. Jesse is out. Walt finally decides to quit the meth business for good. I believe a few months go by, & everything seems back to normal on the family front when Hank & Marie join the Whites for dinner.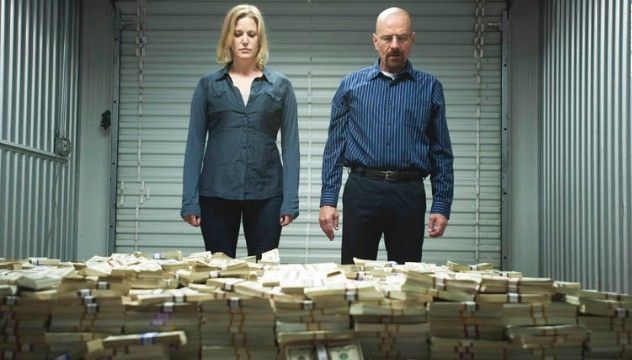 Hank goes the bathroom, decides to pick up one of Walter's books, & finds an inscription inside "Leaves of Grass" - "To My
OTHER
Favorite W.W., It's an honour working with you. Fondly, G.B." (G.B. being Gale Boetticher, who was Walt's temporary "sous chef" under Fring's rule). Flashback to Season 4 in "Bullet Points", Hank found a similar inscription to W.W., which in that case turned out to be poet Walt Whitman. Hank puts two & two together, & realizes that Walt has been linked to this case all along.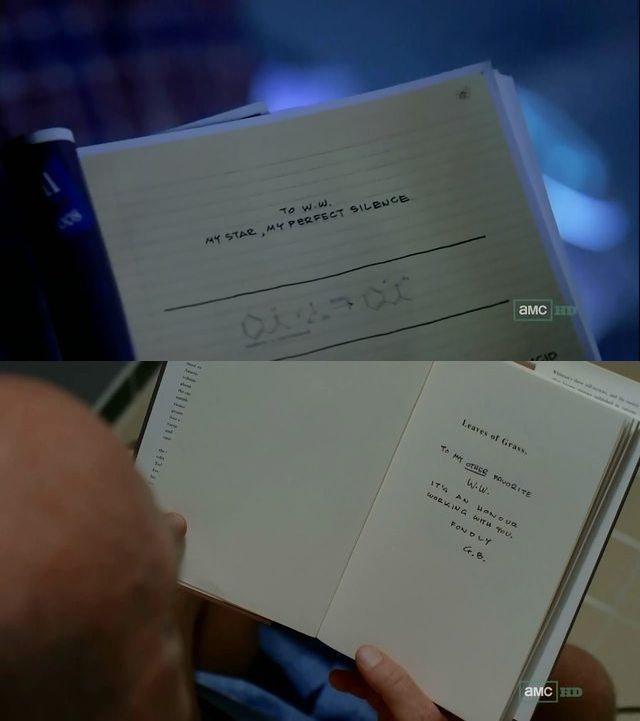 Fast forward to the newest episode that aired on August 12th, "Blood Money". Each scene is so brilliantly thought out & so full of varying context that keeps viewers guessing. I love to analyze episodes like this for double meanings and predictions!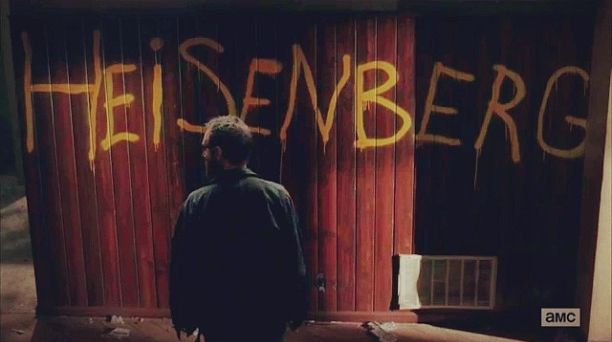 Walt is shown bushy-haired & assumingly a year older on his 52nd birthday, visiting his old home which now looks fenced up & condemned with "Heisenberg" tagged on the walls. So we know the family has probably fallen apart & left Walt altogether. He probably beat his recurring cancer since he's survived the 6 month death sentence he gave himself.
Jumping back to continue on from the end of season 5, Hank plays it cool even after realizing Walt's connection to the meth case, & collects all of the DEA's evidence to examine more closely with this new information. Walt's cancer returns, & he is once again on chemotherapy pills. In the bathroom, he notices that his copy of "Leaves of Grass" is gone, & he knows that Hank has found out.
Lydia visits Skyler's car wash, clearly in distress about some of her continuing operatons at Madrigal & wants Walt's help. I'm sure this will make for a shaky storyline, making Walt conflicted on whether or not to return to the business.
Jesse tries to give up his millions to Mike's granddaughter & Drew Sharp's parents, but Walt returns to Jesse's house once again, duffel bags in hand. Feeling that this "blood money" has no more meaning, Jesse takes it into his own hands & throws out stacks of money onto people's doorsteps. (Wish he lived near my neighborhood!)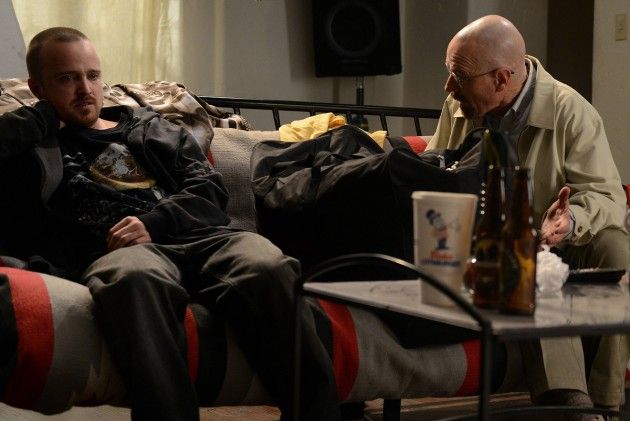 Walt visits Hank, who has been playing sick to give himself time to investigate his brother-in-law from his garage. This long anticipated confrontation couldn't have been better played. Walt shows Hank a tracking device that was planted on his car, the same device that the two of them used to track Gus Fring. Hank slowly closes the garage door & lets the accusations (& his fists) fly. The closing lines packed all the punch when Walt says "If you don't know who I am, then maybe your best course would be to tread lightly". Zing!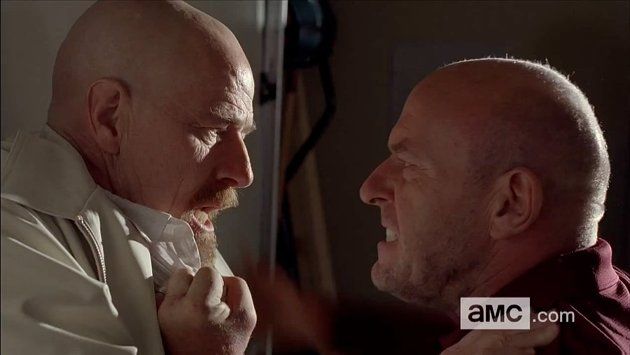 I can't wait to watch the rest of the season! Sadly, I don't have cable, so I'll be watching a day later than everybody else on the
AMC App
on my iPad.
What are your predictions for the coming episodes?
(Photos from AMC)